The Toronto Dermatology Centre is one of the best places in Canada to manage your seborrheic dermatitis (or "dandruff"). Our staff of outstanding dermatologists offers both a comprehensive assessment and diagnosis of your skin, and also discusses all the treatment and prevention options including prescription creams and shampoos and over the counter treatments.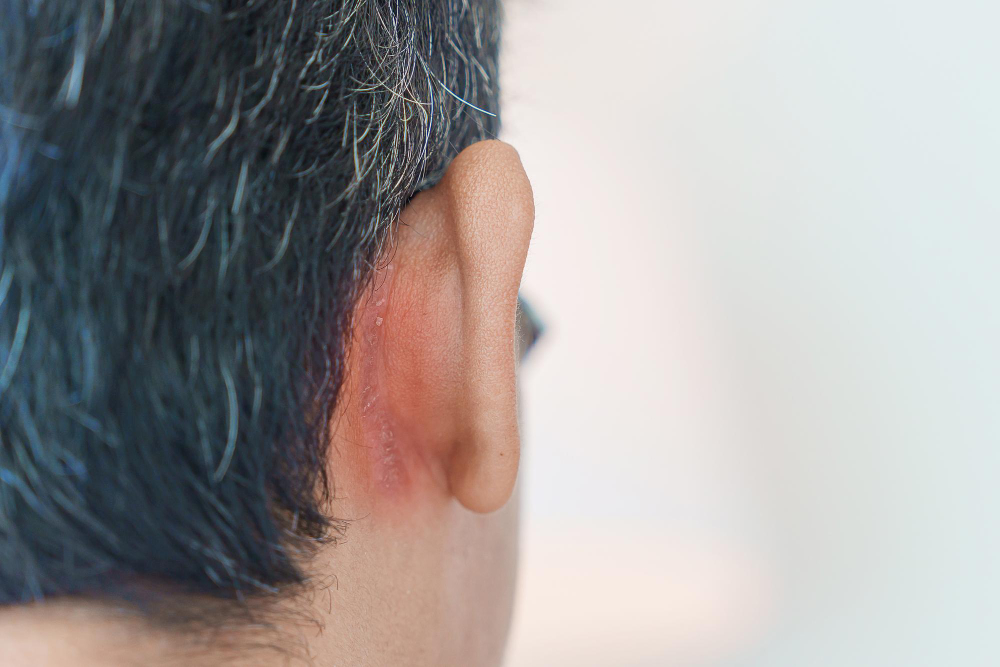 What is Seborrheic Dermatitis?
Seborrheic dermatitis is a common skin disorder characterized by red, scaly, itchy rash mostly seen on the scalp, sides of the nose, eyebrows, eyelids, skin behind the ears, and middle of the chest. Other areas, such as the belly button, buttocks, skin folds under the arms, axillary regions, breasts, and groin, may also be involved.
Are Dandruff, Seborrhea and Seborrheic Dermatitis the Same?
Dandruff appears as scaling on the scalp without redness. Seborrhea is excessive oiliness of the skin, especially of the scalp and face, without redness or scaling. Patients with seborrhea may later develop seborrheic dermatitis. Seborrheic dermatitis has both redness and scaling.
Who Gets Seborrheic Dermatitis?
This condition is most common in three age groups – infancy when it's called "cradle cap," middle age, and the elderly. Cradle cap usually clears without treatment by age 8 to 12 months. In some infants, seborrheic dermatitis may develop only in the diaper area where it could be confused with other forms of diaper rash. When seborrheic dermatitis develops at other ages it can come and go. Seborrheic dermatitis may be seasonally aggravated particularly in northern climates; it is common in people with oily skin or hair, and may be seen with acne or psoriasis. A yeast-like organism may be involved in causing seborrheic dermatitis. Infrequent shampooing of the scalp is also a well-known cause of seborrheic dermatitis.
How is This Condition Treated?
Gentle shampooing with a mild shampoo is helpful for infants with cradle cap. Mild corticosteroid creams and lotions, topical immunomodulators (eg. Protopic, Elidel) or anti-fungal topicals such as Loprox (ciclopirox) or Ketoderm (ketoconazole) or Lamisil (terbinafine) or Canesten (clotrimazole), may also be applied to the affected areas of skin. Adult patients may need to use a medicated shampoo and a stronger corticosteroid preparation.
Non-prescription shampoos containing tar, zinc pyrithione, selenium sulfide, ketoconazole, and/or salicylic acid may be recommended by a dermatologist (most recently we've been recommending and observing very nice improvements with Kelual shampoo as well as Kertyol shampoo ; often we recommend alternating them), or a prescription shampoo (eg. Stieprox, Clobex), cream gel, or foam may be given. For severe or stubborn cases, a short course of oral antifungals or low-dose oral isotretinoin may be given. Generally speaking, those with scalp seborrheic dermatitis ("dandruff") do well to wash their scalps MORE often (at minimum 2-3/week, and in some cases daily).
Note that the goal of seborrheic dermatitis treatment is control and maintenance as there is currently no cure for seborrheic dermatitis.
Here is a selection of media and scientific articles by our renowned dermatologists Dr. Benjamin Barankin and Dr. Anatoli Freiman as they pertain to seborrheic dermatitis.
Toronto Dermatology Centre is located in Toronto, Ontario, and serves men and women in North York, Vaughan, Richmond Hill, York, Aurora, Thornhill, Mississauga, Scarborough, Brampton, Etobicoke, Pickering, Peterborough, Guelph, Kitchener, Oakville, Barrie and all of Greater Toronto (GTA).
Thinking of visiting Toronto's premier skin clinic soon?
Fill out the inquiry form below and let us know your area of interest.