Our Toronto Skin Cancer Centre is a premiere clinic in skin cancer diagnosis and management, and unique in having both top-notch dermatologists and plastic surgeons working together to ensure a proper and timely diagnosis, thorough skin evaluation, periodic monitoring, biopsies and surgical excisions when warranted with the best possible cosmetic outcome. As well, the wait times to see the dermatologist or plastic surgeon for a suspicious mole or lesion are kept to a timely fashion.
Actinic keratoses or "AKs" are considered the earliest stage in the development of skin cancer; it is often referred to as a pre-cancer as an AK has cancer potential and a proportion of them can develop into a skin cancer (squamous cell cancer) if left untreated.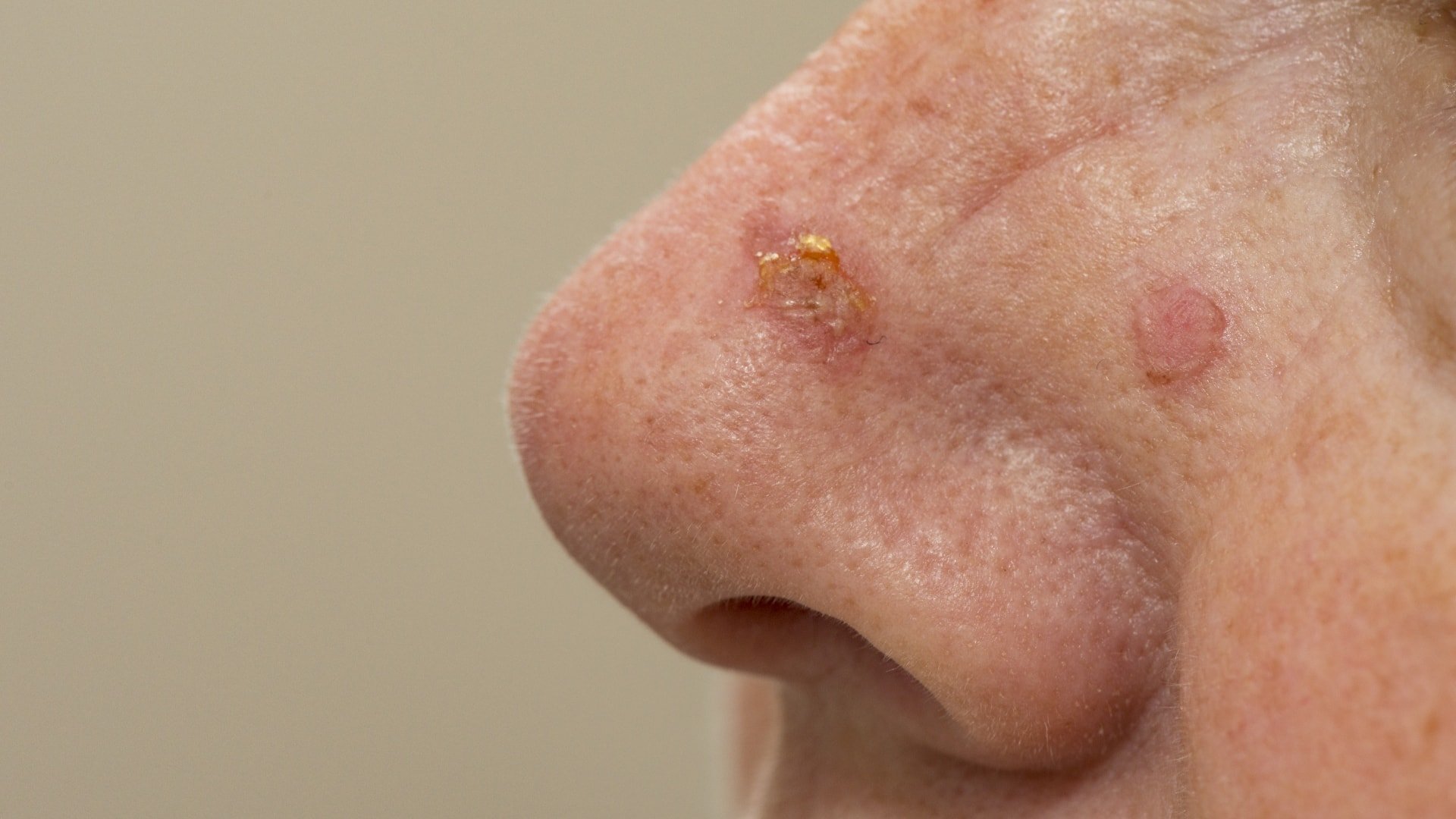 They are small, rough ("like sandpaper"), pink-red spots that can come and go, and most commonly found on the face, ears, neck, lower arms, and back of the hands. They are most common in fair-skinned persons who have had significant sun exposure (e.g. farmers, former lifeguards).Sometimes the lesions are sore. AK lesions may feel as if they are simply dry skin, but moisturizing them doesn't get rid of them.
Actinic keratoses can be treated by liquid nitrogen cryotherapy ("freezing"), at-home topical field therapy (applying a cream or lotion) such as imiquimod (e.g. Zyclara®, Aldara®), ingenol mebutate (Picato®) or 5-fluorouracil (e.g. Efudex®), chemical peeling, surgical excision or curettage; increasingly popular is photodynamic therapy (a chemical called Metvix® is applied to the skin prior to exposure to a light or laser source) which treats clinical and subclinical lesions (lesions under the skin you can't yet see or feel), as well as providing cosmetic anti-aging improvements to the skin. Photodynamic therapy is a preventative proactive treatment as opposed to the traditional liquid nitrogen cryotherapy spot treatments which are a reactive treatment once the pre-cancerous lesion has surfaced to the skin.
Proper use of sunscreens, hats, and large sunglasses can help prevent actinic keratoses even after extensive sun damage has already occurred. Certainly avoid tanning salon use.
Here is a selection of media articles quoting our renowned dermatologists Dr. Benjamin Barankin and Dr. Anatoli Freiman as they pertain to Actinic Keratoses. Toronto Dermatology Centre is proud to be among the largest treatment centres for Actinic Keratoses in Canada.
Toronto Dermatology Centre is located in Toronto, Ontario, and serves men and women in North York, Vaughan, Richmond Hill, York, Aurora, Thornhill, Mississauga, Etobicoke, Scarborough, Pickering, Peterborough, Guelph, Kitchener, Waterloo, Hamilton, Oshawa, Barrie, downtown, midtown, uptown and all of Greater Toronto (GTA).
Thinking of visiting Toronto's premier skin clinic soon?
Fill out the inquiry form below and let us know your area of interest.